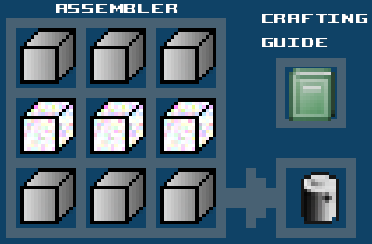 The battery is an item which is a power source and is a key ingredient in all v1 devices.
General Info
For each new moon that you create, your character's suit will come equipped with one battery. In Explore mode, the battery will recharge your suit's status after an encounter with a hostile mob, such as an alien astronaut. With the battery equipped it will take approximately 5.5 minutes for suit status to fully recover. If unequipped the suit status will remain static. The battery does not seem to affect health recovery, and is not needed in Creative mode.
The suit's battery can be replaced with a power crystal which will cause suit status to recharge faster, approximately 2.25 minutes for a full charge from empty. This also increases the player's maximum walking speed from approximately 27 seconds per superblock (128 blocks) in both "Explore" and "Creative" modes.
An energy orb can also replace the suit's battery (see that article for details).
Batteries are also used as energy sources when assembling certain devices, as shown above. Unlike most other devices (except drill v1) you cannot drop batteries on the ground.
The battery is a "cursed" item that cannot be removed from the game by conventional means
Scan
Scan
Type:
Energy Source
Composition:
Electrochemical Cells
Value
90.5 kC
Recipe
Uses