Jurassic World: Dominion Dominates Fandom Wikis - The Loop
Play Sound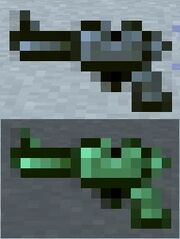 General Info
The Slug Pistol fires narrow rectangular "bullets", and is used to kill Mobs. As with any Device, you use it by selecting the pistol in your inventory then pressing the button in the right part of the screen.
The longer you press the button, the farther and faster the bullet will fly. However, this does not affect how much damage it does to a target. Based on the description of the v1 Slug Pistol (saying that the pistol can be used to "Charge remote energy containers"), the bullets probably do their damage by carrying "energy" rather than by speed of impact.
Magic Bullets
The bullets from your slugpistol and from Astronauts sometimes go through blocks. This is more likely when the bullet is fast (by holding the button for a couple seconds when firing). The astronauts' bullets are always pretty fast, so you may find that a one-block-thick wall is not enough to protect you from getting shot.
Changing Slugpistols
For each new moon you create, your character will start with a Slugpistol v1 in its inventory. This starter Slugpistol cannot be dropped from your inventory, unlike most of the other Devices that you can assemble. Any version of Slugpistol can be stolen by a Blue I, one of lunacraft's Mobs.
Another way to lose or get rid of any Slugpistol (in Update 1.7.0 or later) is to drag newly assembled devices or Materials onto the inventory slot containing the Slugpistol. It will then vanish being replaced by the new item.
In Creative mode, Magnetite is not one of the Material blocks that are given to you in your inventory. You will need to explore your moon to find some, look in Ice where it is easier to spot. When you do collect some Magnetite you may still find that you cannot Assemble a Magnet. In Update 1.8 the Assembler has a hard time dealing with infinite stacks. Your Magnetite stack will become infinite if you collect 2 blocks, but the Assembler will only treat it as 2 blocks. You can either collect 2 more blocks or use multi-touch to put 4 blocks into the Assembler and then stack those blocks together.
In Creative mode you do not need a Slugpistol for protection, but if you want a higher level Slugpistol to get rid of Mobs quicker, you will need a Magnet. If you make at least 2 Magnets, and put them in the same inventory slot, you will have an infinite stack of Magnets.
Scan
Scan
Type:
Slug Pistol
Composition:
Electromechanical
Other Info:
Self Defense

Charge Remote Energy Containers

Value
199.9 kC
Scan
Type:
Slug Pistol II
Composition:
Electromagnetic
Value
400.0 kC
Scan
Type:
Slug Pistol III
Composition:
Gravitic Mechanism
Value
1400.0 kC
Recipes
Slug Pistol v1
Slug Pistol v2
Slug Pistol v3
Uses